The Best Guide for buying Floor Cleaning Equipment
Messy Floors, dusty windows & dirty bathrooms ruin customer's experience and destroy the image you have managed to build with your marketing efforts. This ultimately, leads to loss of business. Taking the time to clean properly will prevent those issues & keep customers coming back to you. We bring a comprehensive floor cleaning equipment buying guide which will ease out the process substantially.
The Essentials
There is a lot more to floor cleaning than meets the eye. There are tons of brushes & mops available. Each type has a specific use.
Floor Cleaning Brush Types
There are several factors that need to be kept in mind when focusing on brushes. While buying a good floor cleaning brush it is pertinent to look at the recovery strength and softness of its bristles. Recovery strength refers to a bristle's ability to retain its original shape and rigidity, even after consistent use. Bristles with good recovery strength will be durable. They will not break or splay out from the center. Bristle softness is a measure of how coarse bristles are to the touch. Soft bristles are ideal for delicate surfaces, while hard bristles are useful for cutting through tough grease and grime.
It appears overwhelming but if you understand the different types of bristles available & their typical applications, it will make the decision easier & swifter.
Floor Mops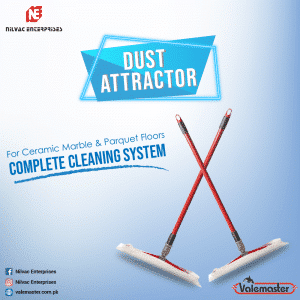 Dust Attractors are dry floor mops ideal for ceramic, marble & parquet floors. It has cloth made with SPUNLACE technology. It has antibacterial treatment. Cloth-lock slits to glide on the surfaces quickly and uniformly. "All-round" 360 degree swivel joint for easy access to corners, under furniture and ceilings.
Wet mops are also available with different heads. Some made of microfiber clothes & some are made of sponge. They have handles made of recyclable materials & metal too. They are ideal for hard floors & help in scrubbing & frequent use.
Floor Squeegees
Floor Squeegees help you effectively clean and dry floors in one motion. They are perfect for high traffic areas where slip-and-fall accidents are possible. These squeegees are ideal for areas that lack drainage and water is likely to collect. They are capable of moving large amounts of water from a variety of floor surfaces quickly, thus reducing the risk of falls.
Caring for Your Equipment
You use brushes, mops and squeegees  to do some heavy cleaning, therefore it is important that you thoroughly clean them as well.
How to clean:
Run it under hot water and rub bristles with dish detergent (to avoid contamination, wash janitorial brushes in a sink separate from kitchen sinks).
Keep an eye on the base of the brush, squeegee & mop to make sure that no grime or grease remains lodged where the bristles meet the handle.
Leave in a clean place to air dry.
If you are unable to understand which is the best equipment for your premises, give us a call and our representative will come over to help you out.